Pig market in Kenya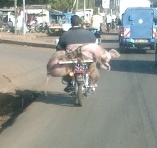 Live pig markets
Although livestock markets are spread throughout the country there are no live pig markets in Kenya. This is owing to the many problems that have faced the pig industry in the past.
Traders move from village to village looking for pigs where live pigs are sold at the farm gate. They then transport the live pigs to the various destinations where money exchange hands. However Farmer's Choice Limited does not buy live pigs. Instead farmers transport them to the factory and are paid according to cold dressed weight (CDW) after slaughter.
Farmer's Choice Limited
Farmer's Choice is the largest abattoir in Kenya located on the outskirts of Nairobi. This private facility combines slaughtering and processing. They mainly supply affiliate hotels with pork products and are also involved in exports. The factory slaughters about 400 pigs and processes 350 pig carcasses per day into products such as ham, bacon, sausages and burgers. Most of the pigs come from their farms and the rest are supplied by contract and other pig farmers.
Farmers Choice sells their products to tourist hotels, restaurants, supermarkets and other retail outlets in various destinations in Kenya and neighboring countries.
Ndumboini Farm slaughter house
This abattoir is located in Kikuyu District of Kiambu County and receives pigs from all over the country. They do not carry out any processing of pork. It has a capacity of slaughtering 40 to 50 pigs per day, most of which come from Kiambu and surrounding areas, with a significant number coming from Nyanza.
This abattoir is the main supplier of pork to most of the butcheries in Nairobi city centre, as well as its estates and outskirts. Some meat is transported to butcheries in Thika and Kitengela.
Lyntano slaughter house
This facility is situated in the northern outskirts of Nairobi. It slaughters between six and ten pigs a day mainly from Nairobi and Kiambu. Outlets for the carcasses include Nairobi City Market butcheries, several hotels, popular entertainment places and supermarkets.
Kabati slaughter house
Kabati abattoir is located in Muranga South District. Cattle, sheep and goats are slaughtered in one section while pigs are slaughtered in the other. The two operations are separate. The abattoir kills between 18 and 25 pigs per day, limited only by the shortage of pigs for slaughter. Most of the pigs are supplied by small-scale farmers in the district, with a few from Thika, Machakos, Nyeri, Nyahururu and Kirinyaga and Kitale. Traders sometimes slaughter underweight pigs to meet demand. The main market for the carcasses is Thika Town which is probably leading town in Kenya in pork consumption and has many pork butcheries and eateries.
Other slaughter houses / slabs
Large and medium pig commercial enterprises around Nairobi (Ngong and Kiserian) and Nakuru have their own slaughter slabs where they slaughter their own pigs and sometimes those of the neighboring small-scale farmers. Some of these enterprises own butcheries in Nairobi and Nakuru where the pork is sold. Pig-raising areas in major cities, towns and rural districts generally have various types of slaughter slabs and outlets in local butcheries and eateries.