Towards developing and popularizing goat milk in Kenya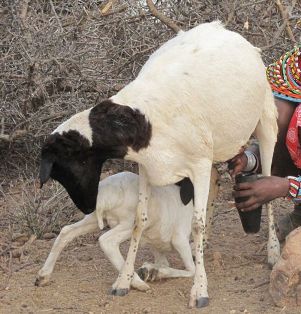 There has been much attention given to goat milk in Kenya of late. Numerous projects have cropped up across the country to promote dairy goats and goat milk as a way of fighting poverty both in the rural areas and urban centers. Youth, women, widows and all manner of groups have been recruited to raise dairy goats towards supplying goat milk to the emerging and lucrative goat milk market.
These projects have chosen the goat because of its wide acceptability across all communities alongside the nominal capital required to make the desired impact in terms of project objectives. A cow equals six goats in terms of expenses making it a hard sell for most sponsors of projects. On the other hand, supplying dairy goats to groups is less costly. The cost of maintaining the goats is equally well within the group's capabilities. Within a short time, often in several months, the project is able to meet its objectives and group members as well are able to see the fruits of the project, typically in terms of milk and off-springs. Consequently the dairy goat has fast overtaken all other domestic animals to become the darling of rural development projects wishing to have a quick impact on the ground.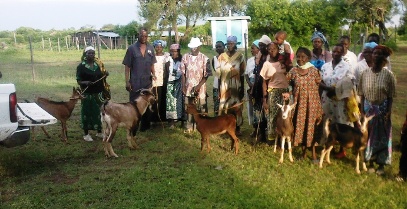 Other than the dairy goat being a simple and practical way of alleviating poverty, goat milk has many benefits compared to cow milk. It is a good substitute for breast milk because it boosts the immune system and people suffering from bronchitis, asthma and other respiratory conditions have reported relief when they take goat milk. Those with skin conditions like eczema, and other ailments like diabetes and gout have all testified to the medicinal effect of the milk. As a result, powerful support for goat milk have come from medical needs with people advocating for safe diet lifestyles marketing the milk in health consciousness campaigns.
Market
Dairy goat farmers should therefore not lack market to sell their milk as is often the case because the market is actually big. There is an ever increasing demand for goat milk by hotels, supermarkets, and hospitals and the prices go as high as Kshs 150 for a litre. Adding value to the milk to make such products as goat cheese, yoghurt, butter and ghee can be expensive but also a worthwhile venture to reach a wider market. There are people who look for these products but cannot find them in the local supermarket. It is important to note that more people in the world consume goat milk than cow milk and these should be reason enough to consider exporting goat dairy products to the world market.
But goat milk is a comparatively new product in the dairy market which is traditionally dominated by cow milk. The dairy industry is so flooded with cow milk such that those processing fresh goat milk and yoghurt need to work harder to reach consumers. As a result, marketing goat milk in Kenya poses a big challenge owing to the small quantities produced and the lack of a developed infrastructure as in cow milk. To overcome these challenges, investments in small goat milk factories strategically placed in goat milk producing areas and carrying out aggressive campaigns to popularize the product is required. These factories can then supply the goat dairy products to leading supermarkets such as Uchumi, Tuskys, Nakumatt, Naivas, Ukwala and other major outlets in order to reach consumers.
Packaging
Individuals or groups preferring to directly engage consumers should consider packaging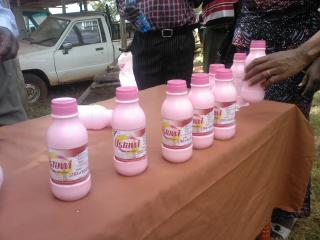 their product to meet acceptable standards, institute quality control measures and employ a wide transportation and distribution networks. This can be made possible if the various individuals or groups take advantage of economies of scale by coalescing together to form bigger groups or even cooperative societies. They should however be very cautious with their milk. The rising demand for this commodity and the small quantity each individual can produce has tempted unscrupulous traders o add water and other unwanted materials into the milk to make an extra buck, a practice that is very common with cow milk. Goat milk from the group members should thus be tested to ensure its safety, freshness and wholesomeness. Projects should assist the groups to streamline milk processing operations and train group members on proper and hygienic ways of handling milk.
Bar codes
To be able to sell these products to supermarkets and crack the world market, concerned projects should help these groups to acquire bar codes for their products. A Certificate of Registration by the government Registrar of Companies is required to get the bar codes. In addition, it is illegal in Kenya to sell products that are not certified by KEBS. The certificate of registration is used to apply for a standardization mark permit from the Kenya Bureau of Standards (KEBS). The permit is given once a Quality Assurance Officer from KEBS visits the premises and satisfies himself that the products meet minimum standards and are suitable for human consumption. The permits are renewed annually and charged based on the annual turn over of the company. Companies with an annual turn over less than Kshs 200,000 pay Kshs 5,800 whereas those with turn over more than the amount pay Kshs 11,600 annually, inclusive of Value Added Tax (VAT). Companies can opt to brand their products with the highly respected Diamond Mark of quality which is charged at 0.2 percent of the annual turnover.
With these supporting documents and the company's PIN Certificate, a bar coding company should be able to provide bar codes to the list of products presented. Several bar coding companies are available in Nairobi and one like GS1 Africa charges Kshs 5,500 plus a 16% VAT to register a new number. The bar code is activated once the fee is paid. Bar codes expire annually and an annual subscription is charged depending on the turn over of the product.
Armed with these certifications and bar codes, groups can then present product samples to shopping outlets for stocking. Marketing agents and companies all over the country are open to marketing goat milk products if these conditions are met because then they would not face restrictions imposed by major supermarkets and shopping outlets.
Help group members
In nearly all cases, projects have tended to just provide live animals to these farmer groups and left them to their own devices. This has inadvertently frustrated many of them with some abandoning the whole business altogether. To avoid this and make goat milk a sustainable business enterprise, projects should strive to encourage farmers to coalesce around bigger groups, link them with market outlets and above all go an extra mile to incorporate the acquisition of the requisite certificates and bar codes as part of their objectives and sponsorship. Because it will not be enough to have many groups raising dairy goats without knowing where to take their goat milk.